Author bio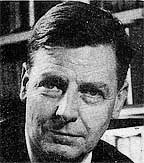 Michael Innes - book author
Michael Innes was the pseudonym of John Innes MacKintosh (J.I.M.) Stewart (J.I.M. Stewart).

He was born in Edinburgh, and educated at Edinburgh Academy and Oriel College, Oxford. He was Lecturer in English at the University of Leeds from 1930-1935, and spent the succeeding ten years as Jury Professor of English at the University of Adelaide, South Australia.

He returned to the United Kingdom in 1949, to become a Lecturer at the Queen's University of Belfast. In 1949 he became a Student (Fellow) of Christ Church, Oxford, becoming a Professor by the time of his retirement in 1973.

As J.I.M. Stewart he published a number of works of non-fiction, mainly critical studies of authors, including Joseph Conrad and Rudyard Kipling, as well as about twenty works of fiction and a memoir, 'Myself and Michael Innes'.

As Michael Innes, he published numerous mystery novels and short story collections, most featuring the Scotland Yard detective John Appleby.


Michael Innes is the author of books: Death at the President's Lodging (Sir John Appleby, #1), Hamlet, Revenge! (Sir John Appleby, #2), Appleby's End (Sir John Appleby, #10), Lament for a Maker (Sir John Appleby, #3), The Daffodil Affair (Sir John Appleby, #8), The Long Farewell (Sir John Appleby, #17), The Weight Of The Evidence (Sir John Appleby, #9), There Came Both Mist And Snow (Sir John Appleby, #6), The Secret Vanguard (Sir John Appleby, #5), Appleby On Ararat (Sir John Appleby, #7)
Author Books
02
03


Strange things have been happening in Snarl: missing animals have been replaced with marble effigies; ominous tombstones have arrived predicting future deaths. Detective Inspector John Appleby is travelling by train to consult on the case. His journey is interrupted, however, when the inscrutable Mr. Raven informs Appleby that he won't make his connection, and seems more than keen to offer Appleby a place to sleep for the night.

Appleby is charmed by this kindness, but is soon plagued by second thoughts. As the train compartment fills, Appleby notices a striking resemblance between the passengers: the same long nose, the same cold eyes… soon he is faced with the entire Raven family. What could these strangers possibly want with Appleby?

As Appleby learns more about the Ravens and their novelist relative, Ranulph, he begins to suspect a connection to his case. Do the Ravens have sinister intentions, or are they the key to solving the mystery?

In this bizarre little town filled with curious characters and troubling tales, should Appleby feel safe, or should he have seen the signs?
04
05
06
07
08
09
Purgatory open before him.
10