Author bio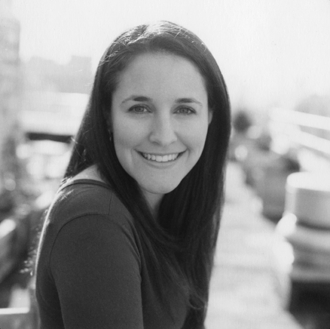 Sarah Mlynowski - book author
Sarah was born in Montreal, Canada. After graduating with an honors degree in English literature from McGill University, she moved to Toronto to work for Harlequin Enterprises. While she never met Fabio, she used her romance publishing experiences to fuel her first novel Milkrun.

Since then, Sarah has written four additional novels for adults: Fishbowl, As Seen on TV, Monkey Business, and Me vs. Me; the New York Times bestselling middle grade series Whatever After; the middle grade series Upside-Down Magic (with Lauren Myracle and Emily Jenkins); and the teen novels Bras & Broomsticks, Frogs & French Kisses, Spells & Sleeping Bags, and Parties & Potions, all in the Magic in Manhattan series, as well as Gimme a Call, Ten Things We Did (And Probably Shouldn't Have), Don't Even Think About It, Think Twice, and I See London, I See France.

Along with Lauren Myracle and E. Lockhart, Sarah also wrote How to Be Bad, and along with Farrin Jacobs, she wrote See Jane Write, a guide to writing.

Sarah's books have been translated into twenty-nine languages and optioned to Hollywood. She now lives in New York City with her husband and two daughters.


Sarah Mlynowski is the author of books: Ten Things We Did, I See London, I See France (I See London, I See France, #1), Bras & Broomsticks (Magic in Manhattan, #1), Fairest of All (Whatever After, #1), Dream On (Whatever After, #4), Upside-Down Magic (Upside-Down Magic, #1), Frogs & French Kisses (Magic in Manhattan, #2), Bad Hair Day (Whatever After, #5), Spells & Sleeping Bags (Magic in Manhattan, #3), Milkrun
Author Books
01
2 girls + 3 guys + 1 house - parents = 10 things April and her friends did that they (definitely, maybe, probably) shouldn't have.
If given the opportunity, what sixteen-year-old wouldn't jump at the chance to move in with a friend and live parent-free? Although maybe "opportunity" isn't the right word, since April had to tell her dad a tiny little untruth to make it happen (see #1: "Lied to Our Parents"). But she and her housemate Vi are totally responsible and able to take care of themselves. How they ended up "Skipping School" (#3), "Throwing a Crazy Party" (#8), "Buying a Hot Tub" (#4), and, um, "Harboring a Fugitive" (#7) at all is kind of a mystery to them.
In this hilarious and bittersweet tale, Sarah Mlynowski mines the heart and mind of a girl on her own for the first time. To get through the year, April will have to juggle a love triangle, learn to do her own laundry, and accept that her carefully constructed world just might be falling apart . . . one thing-she-shouldn't-have-done at a time.
02
I see London, I see France, I see Sydney's underpants.

Nineteen-year-old Sydney has the perfect summer mapped out. She's spending the next four and half weeks traveling through Europe with her childhood best friend, Leela. Their plans include Eiffel-Tower selfies, eating cocco gelato, and making out with très hot strangers. Her plans do not include Leela's cheating ex-boyfriend showing up on the flight to London, falling for the cheating ex-boyfriend's très hot friend, monitoring her mother's spiraling mental health via texts, or feeling like the rope in a friendship tug-of-war.

As Sydney zigzags through Amsterdam, Switzerland, Italy, and France, she must learn when to hold on, when to keep moving, and when to jump into the Riviera…wearing only her polka-dot underpants.
03
From the New York Times bestselling author of the Whatever After series, the first book in the hilariously bewitching Magic in Manhattan series!

What if all your wishes could come true? Blink your eyes, drink a fizzing pink potion, and poof! Life is perfect. That's Rachel's situation. Except she's not the one who suddenly has magical powers. Her younger sister is. And as Rachel would tell you, spellbooks are wasted on the young!

Yes, yes, of course world peace and cures for horrible diseases are important. But so is dancing without looking like she's being electrocuted, winning back her best friend, stopping her dad's wedding, and finding a date for Spring Fling.

Rachel's not bewitched. Yet. . . .

"Sabrina fans will get a witchy kick out of Bras & Broomsticks!"--Meg Cabot, New York Times bestselling author of The Princess Diaries

"Poof, instant bliss."--Lauren Myracle, New York Times bestselling author of TTYL and Rhymes with Witches

"One magical romp you won't want to miss."--Discovery Girls

"Hilarious." --Teen People
04
The first installment of Sarah Mylowski's New York Times bestselling series!

Be the bravest of them all . . .

Once upon a time my brother and I were normal kids. The next minute? The mirror in our basement slurped us up and magically transported us inside Snow White's fairy tale.

I know it sounds crazy, but it's true.

But hey -- we're heroes! We stopped Snow White from eating the poisoned apple. Hooray! Or not. If Snow White doesn't die, she won't get to meet her prince. And then she won't get her happy ending. Oops.

Now it's up to us to:
- Avoid getting poisoned
- Sneak into a castle
- Fix Snow White's story

But Snow White's REAL happy ending might not be quite what we expected . . .
05
Good night, sleep tight, don't let the magic mirror bite....

It was supposed to be the best sleepover ever. Just me, my best friend, Robin, and an awesome night of s'mores, secrets, and staying up late. No pesky little brothers allowed. And DEFINITELY no magic mirrors.

Everything was perfect...until the mirror sucked Robin into Sleeping Beauty's story! My brother and I dove in after her, but we couldn't stop her from pricking her finger on the spindle. Now we're REALLY in trouble. Robin's fast asleep--and Sleeping Beauty is wide-awake! To save the day I've got to:

- Host a fake birthday party for Jonah
- Find a prince to wake up Robin
- Avoid getting cursed by scary fairies

We only have ten hours to make things right...or this day will become a nightmare!
06
New York Times bestselling authors Sarah Mlynowski, Lauren Myracle, and Emily Jenkins comes the hilarious and heartfelt story of a group of magical misfits.

Nory Horace is nine years old. She's resourceful, she's brave, she likes peanut butter cookies. Also, she's able to transform into many different animals. Unfortunately, Nory's shape-shifting talent is a bit wonky. And when she flunks out of her own father's magic academy, Nory's forced to enter public school, where she meets a group of kids whose magic is, well, different.

This new, offbeat series from hit authors Sarah Mlynowski, Lauren Myracle, and Emily Jenkins chronicles the misadventures of Nory and her oddball friends, who prove that upside-down magic definitely beats right side up.
07


Suddenly, the fate of everything is in Rachel's hands.

Her family.

The world.

Senior prom.
08


So we have to:
-Find the tower's secret door
-Avoid getting swallowed by a giant spider
-Locate Pickles (aka the prince)
-Reunite Rapunzel with her parents

If we don't untangle this knotty tale soon, we could be stuck in this mess for good!
09


But she's having some serious issues:

Mosquitoes in the Adirondacks are incredibly thirsty.

Her stepmom keeps sending embarrassing feminine hygiene care packages.

She accidentally zapped away all her clothes.

And there's a backstabber in her cabin intent on making life miserable.

Good thing Rachel's a witch.
10