Author bio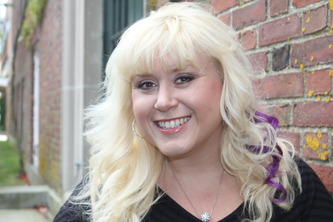 Kristen Strassel - book author
Kristen Strassel is far cooler than she'll make herself sound in this bio. She enjoys spending time with the voices in her head—nudging the characters toward those bad decisions and a happily ever after. When she's not writing, she's often still in the land of make-believe—doing makeup for film and television. And when she's not doing any of that, she enjoys making her house look like a Pinterest board, watching football, and road trips to the middle of nowhere.

Connect with Kristen!
Website
Facebook
Twitter 
Newsletter
Amazon 
Book Bub
Book and Main Bites

Come backstage! Join my reader group and get all the news first!


Kristen Strassel is the author of books: Forever Home (Sawtooth Shifters, #1.5), Wanted: Corynne, No Strings Attached (The Escort, #1), Her Captive Wolf (Sawtooth Shifters, #1), Love Spell (Smoky Mountain Dragons, #1), Running Wild (The Real Werewives of Alaska, #1), Because the Night (Night Songs Book 1), Wanted by the Lion (Colorado Shifters, #1), Silver Fox (Bad Alpha Dads; The Real Werewives of Alaska #3), Midsummer Spell (Smoky Mountain Dragons, #2)
Author Books
01


Shadow Channing is in chains.

Pack rivalries have imprisoned his family beside their enemies. They're forced to fight for survival each month in a dog fighting ring. Shadow assures his brothers they'll escape, but to do so they must either team up with the rival pack that led them to their capture, or fight to the death for their freedom in front of a cheering crowd.

Trina is in recovery.

When rumors of dog fights start swirling around town, the owner of Forever Home Animal Shelter is determined to put a stop to them and bring the dogs to safety. Even when they turn out to be wolves. Trina knows that everyone deserves a second chance at life, especially after a car accident ripped hers away from her.

Shadow will do anything to repay Trina for saving his life, but soon he realizes he's not the only one who needs saving.
02
Welcome to the shadow world of Blood Courtesans... where vampires are real and blood is a financial asset. This is the world I live in.
I don't care about the money I'll make as a blood courtesan. I need the vampires to protect me from other humans. And more than that, from myself. Any time I think about getting revenge against the bullies who've tortured me, the thing I imagine happens. I have no way to control it. And the latest incident has put me in the middle of a murder investigation. I have to convince them to turn me into a vampire. I can't be tried for murder if I'm already dead. Or...undead.

In the vampire world, blood is money and sex is everything. But when my power catches the attention of the oldest, most powerful vampire in the coven, he'll do anything to make me his.

Nash doesn't have to look me in the eye to cast a spell over me. And I don't even have to look at him to know he wants me.

I'll either be Nash's secret weapon--or the downfall of his coven.
03
I paid for his body. I never expected his heart to be part of the deal.

The last thing I want to do is face my cheating ex-husband at my twentieth high school reunion. When my best friend suggests I hire an escort for the weekend, I choose a man I'd never have a chance to date in real life.

Jagger Holiday. Sinfully sexy. An artist with a haunting vision. My fantasy.

We connect through our art, sharing a passion for things that have been forgotten and making them beautiful. But I never expected his soul to whisper to mine when he touched me…

Now Jagger wants to make the fantasy our reality, but can I give my heart to a man whose body is for hire?

Intended for adult audiences only. HFN ending. Leah and Jagger's story continues in books 2 and 3.
04
A leader facing his pack's extinction. A woman broken by a tragic accident. Together they just might survive—if they learn to trust each other.

As the director of Forever Home animal shelter, Trina can't ignore the rumors about a vicious dog fighting ring in Granger Falls, Idaho, and rushes in to rescue them. She'll stop at nothing to keep her furry friends safe, even if it puts her life in danger.

With his pack caught and trapped in a fighting ring, Shadow Channing never expected a beautiful woman to be his salvation. Now she's a target in their pack's war and he'll have to explain to her exactly why the wolves she helped save shifted into their human forms on the full moon.

Freedom won't be enough to save his pack. To best their captors for good, he must work with the rival wolves he fought in captivity and convince Trina the Sawtooth Shifters have no future without her as his mate.

Note from Kristen: Her Captive Wolf was originally published as Forever Home and Rescue Me.
05


Sophie Whynot can't watch another one of her friends get married or have a baby when her own prospects for love are dire. Scratch that, catastrophic. This trip to the Smoky Mountain village to stay with her Gran is a much needed reset. A chance to get her blog off the ground and to learn about the magic her grandmother practices. A chance to get to really know herself.

Tyson Drake knows exactly who he is, and it was stolen from him when Sophie's grandmother cast a love spell on his dragon thunder half a century ago. The spell was supposed to help him find his mate, but instead, doomed him to walk the earth as a human. Not a mate in sight. And nothing he's tried to get his fire back has worked.

But when his feelings for Sophie intensify, is he willing to take a chance on another Whynot enchantress, or will her magic be the end of him?
06
The Alaska Bloodhounds are the newest team in the Continental Football Association. These wild shifters are rough and ready for the season.
They only need one thing: women.
Do you have what it takes to be a Real Werewife?
In this episode—

Sebastian Connall spent the last seven years running — from his twin brother, who kicked him out of his pack, from his wolf, and toward his chance to play football at the professional level. He thought his chance at having a destined mate disappeared when he lost his pack until a quirky travel blogger awakens his wolf.

Naomi Hart has her own agenda, and it's not hooking up with a football player on a reality show. An all-expenses-paid trip to Alaska is a golden opportunity for her travel blog. But when a smokin' hot werewolf with amber eyes and a chequered past approaches her at the Real Werewife party, she'll reconsider her commitment-phobe ways.

Love is the one game Sebastian doesn't know how to play. And his brother won't play by pack rules. He already gave Sebastian one chance to leave Alaska alive. But this time, win or lose, Sebastian is done running.
07
Meet the vampire hellbent on destruction and the girl who will do anything to save him, set to a hard rock soundtrack in the hot Las Vegas night…
Sex, blood, and rock n' roll.

Immortal Dilemma is the hottest show in Vegas and Tristan Trevosier is their biggest star. But to me, he's the guy who broke my heart and then showed up on stage claiming to be a vampire.

Tristan says I won't understand his new life. He won't let me in. That's how I met Blade, a human with a mysterious connection to Immortal Dilemma. Blade is willing to give me everything Tristan won't.
But I can't let him go.

The true darkness of Tristan's world terrifies me, and I fear for his life. Now Blade's gone missing and I have to choose—save my mortal friend or abandon my immortal love.


This book is full of twists and turns you won't see coming, and characters you won't soon forget.--Tam, Amazon reviewer
As I read the last page GASPING shaking the book thinking to myself if I shake it more words would magically appear but note to self NOT GOING TO HAPPEN. I REALLY LOVED THIS BOOK.--Karina, Amazon reviewer
Leave yourself some time when you begin this story. It will draw you in, and you must find out how it ends before you can put it down again.--KSon, Amazon reviewer
08


Daphne hates the tradition of The Mate. Every autumn, fate brings together the members of the herd who are destined to spend eternity together. She's not about to give up her freedom for someone who doesn't love her, but she's shifted into her doe form, and she feels she must go.

When a mysterious man finds her and brings her to his cabin, all she knows is Leos's not a buck... and he won't tell her what he is. He's frustratingly handsome, overly protective, and everything she ever wanted. But the most ancient of traditions goes horribly wrong when she finds out he's her herd's most deadly predator.

Daphne must decide if her star-crossed love stands a chance, or if she should run from Leo.
09
The Alaska Bloodhounds are the newest team in the Continental Football Association. These wild shifters are rough and ready for the season.
They only need one thing: women.
Do you have what it takes to be a Real Werewife?
In this episode--
Landon Fox dedicated his life to football, a dream that was once bigger than anything else—including his daughter. With his football career nearing its end, and the Real Werewives breathing down his back, he realizes that chasing his career has led him to a dead end. And when chaos erupts during a Werewife event, and a figure from Landon's past emerges from the shadows, he can no longer run from his past.
Jenna came to Alaska on a mission—to reconnect her wild child daughter with her father, Landon Fox. Love is the last thing on the mind of this Real Werewife. But when Landon unknowingly bids on her for a sexy date, the dinner she cooks for him isn't the only thing heating up the cold Alaska night.
Like Landon, Jenna chased her dreams, but never realized the thing they always needed most was each other.  She's ready to take another chance on the man she left behind—that is, if he's ready to be a part of something bigger than football—his family.
10
​An ancient relic has a cursed dragon convinced I'm a goddess. Not just any goddess—his goddess. But for me to help him, he first must make me believe in magic.​​

Just a little complication, right?

I've been busy building my pediatric practice and my dream home. I have almost everything I want, but there are parts of my life I've ignored. Specifically, my love life.

When Gran's house burns down, I head to Summerland to help her get back on her feet. She and my sister claim a dragon fight is responsible for the destruction, and I'll have to come to grips with the neglected parts of my life. Not just the magic I don't believe in.

Sexy Chance Drake is willing to help Gran too. He's also skeptical of Gran's magic after he insists one of her spells went wrong and left him in trapped in his human form.

He claims he's a dragon, and I've dared him to make me believe in magic.

When I can read an ancient text no one else can decipher, nothing in my life will ever be the same. But can Chance convince me to stay in Summerland and use my magic to save the thunder?