Author bio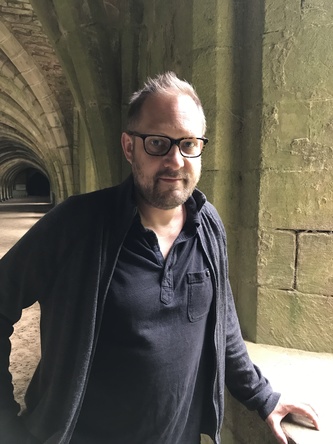 Peter Swanson - book author
Peter Swanson is the author of six novels including The Kind Worth Killing, winner of the New England Society Book Award, and finalist for the CWA Ian Fleming Steel Dagger, Her Every Fear, an NPR book of the year, and his most recent thriller, Eight Perfect Murders. His books have been translated into 30 languages, and his stories, poetry, and features have appeared in Asimov's Science Fiction, The Atlantic Monthly, Measure, The Guardian, The Strand Magazine, and Yankee Magazine.

A graduate of Trinity College, the University of Massachusetts at Amherst, and Emerson College, he lives in Somerville, Massachusetts with his wife and cat.
Peter Swanson is the author of books: The Kind Worth Killing, Before She Knew Him, Her Every Fear, Eight Perfect Murders (Malcolm Kershaw, #1), The Girl with a Clock for a Heart, All the Beautiful Lies, XXL-Leseprobe: Die Gerechte, Unti Swanson Novel #7: A Novel, Goodnight June / Those Who Wish Me Dead / Looking For Me / The Girl With a Clock for a Heart
Author Books
01
The Girl on the Train will love this modern reimagining of Patricia Highsmith's classic Strangers on a Train from the author of the acclaimed The Girl with a Clock for a Heart—which the Washington Post said "should be a contender for crime fiction's best first novel of 2014."

On a night flight from London to Boston, Ted Severson meets the stunning and mysterious Lily Kintner. Sharing one too many martinis, the strangers begin to play a game of truth, revealing very intimate details about themselves. Ted talks about his marriage that's going stale and his wife Miranda, who he's sure is cheating on him. Ted and his wife were a mismatch from the start—he the rich businessman, she the artistic free spirit—a contrast that once inflamed their passion, but has now become a cliché.

But their game turns a little darker when Ted jokes that he could kill Miranda for what she's done. Lily, without missing a beat, says calmly, "I'd like to help." After all, some people are the kind worth killing, like a lying, stinking, cheating spouse. . . .

Back in Boston, Ted and Lily's twisted bond grows stronger as they begin to plot Miranda's demise. But there are a few things about Lily's past that she hasn't shared with Ted, namely her experience in the art and craft of murder, a journey that began in her very precocious youth.

Suddenly these co-conspirators are embroiled in a chilling game of cat-and-mouse, one they both cannot survive . . . with a shrewd and very determined detective on their tail.
02


But when they meet the neighbors next door, that calm begins to erode as she spots a familiar object displayed on the husband's office shelf. The sports trophy looks exactly like one that went missing from the home of a young man who was killed two years ago. Hen knows because she's long had a fascination with this unsolved murder—an obsession she doesn't talk about anymore, but can't fully shake either...
03


Soon after her arrival at Corbin's grand apartment on Beacon Hill, Kate makes a shocking discovery: his next-door neighbor, a young woman named Audrey Marshall, has been murdered. When the police question her about Corbin, a shaken Kate has few answers, and many questions of her own—curiosity that intensifies when she meets Alan Cherney, a handsome, quiet tenant who lives across the courtyard, in the apartment facing Audrey's. Alan saw Corbin surreptitiously come and go from Audrey's place, yet he's denied knowing her. Then, Kate runs into a tearful man claiming to be the dead woman's old boyfriend, who insists Corbin did the deed the night that he left for London.

When she reaches out to her cousin, he proclaims his innocence and calms her nerves--until she comes across disturbing objects hidden in the apartment and accidentally learns that Corbin is not where he says he is. Could Corbin be a killer? What about Alan? Kate finds herself drawn to this appealing man who seems so sincere, yet she isn't sure. Jet-lagged and emotionally unstable, her imagination full of dark images caused by the terror of her past, Kate can barely trust herself, so how could she take the chance on a stranger she's just met?
04


Years ago, bookseller and mystery aficionado Malcolm Kershaw compiled a list of the genre's most unsolvable murders, those that are almost impossible to crack—which he titled "Eight Perfect Murders"—chosen from among the best of the best including Agatha Christie's A. B. C. Murders, Patricia Highsmith's Strangers on a Train, Ira Levin's Death Trap, A. A. Milne's Red House Mystery, Anthony Berkeley Cox's Malice Aforethought, James M. Cain's Double Indemnity, John D. Macdonald's The Drowner, and Donna Tartt's A Secret History.

But no one is more surprised than Mal, now the owner of the Old Devils Bookshop in Boston, when an FBI agent comes knocking on his door one snowy day in February. She's looking for information about a series of unsolved murders that look eerily similar to the killings on Mal's old list. And the FBI agent isn't the only one interested in this bookseller who spends almost every night at home reading. The killer is out there, watching his every move—a diabolical threat who knows way too much about Mal's personal history, especially the secrets he's never told anyone, even his recently deceased wife.

To protect himself, Mal begins looking into possible suspects—and sees a killer in everyone around him. But Mal doesn't count on the investigation leaving a trail of death in its wake. Suddenly, a series of shocking twists leaves more victims dead—and the noose around Mal's neck grows so tight he might never escape.
05


When George first met her, she was an eighteen-year-old college freshman from Sweetgum, Florida. She and George became inseparable in their first fall semester, so George was devastated when he got the news that she had committed suicide over Christmas break. But, as he stood in the living room of the girl's grieving parents, he realized the girl in the photo on their mantelpiece - the one who had committed suicide - was not his girlfriend. Later, he discovered the true identity of the girl he had loved - and of the things she may have done to escape her past.

Now, twenty years later, she's back, and she's telling George that he's the only one who can help her...
06
Her Every Fear and The Kind Worth Killing comes a diabolically clever tale of obsession, revenge, and cold-blooded murder—a sly and brilliant guessing game of a novel in the vein of Ruth Ware, Paula Hawkins, and Patricia Highsmith.

Harry Ackerson has always considered his stepmother Alice to be sexy and beautiful, in an "otherworldly" way. She has always been kind and attentive, if a little aloof in the last few years.

Days before his college graduation, Alice calls with shocking news. His father is dead and the police think it's suicide. Devastated, Harry returns to his father's home in Maine. There, he and Alice will help each other pick up of the pieces of their lives and uncover what happened to his father.

Shortly after he arrives, Harry meets a mysterious young woman named Grace McGowan. Though she claims to be new to the area, Harry begins to suspect that Grace may not be a complete stranger to his family. But she isn't the only attractive woman taking an interest in Harry. The sensual Alice is also growing closer, coming on to him in an enticing, clearly sexual way.

Mesmerized by these two women, Harry finds himself falling deeper under their spell. Yet the closer he gets to them, the more isolated he feels, disoriented by a growing fear that both women are hiding dangerous—even deadly—secrets . . . and that neither one is telling the truth.
07
Nur sie entscheidet, wer den Tod verdient.

Eine Flughafenbar in London. Es ist Abend, und Ted Severson wartet auf seinen Rückflug nach Boston, als eine attraktive Frau sich neben ihn setzt. Kurz darauf vertraut er der geheimnisvollen Fremden an, dass seine Frau ihn betrogen hat. Mit ihrer Reaktion jedoch hat er nicht gerechnet: Sie bietet ihm Hilfe an – beim Mord an seiner Ehefrau. Ein Trick? Ein morbider Scherz? Oder ein finsteres Rachespiel, das nur ein böses Ende nehmen kann?
09

An afterwords with the author follows each work.

Goodnight June / Sarah Jio --
Those who wish me dead / Michael Koryta --
Looking for me / Beth Hoffman --
The girl with a clock for a heart / Peter Swanson.

"Sarah Jio imagines the inspiration for Goodnight Moon, an adored childhood classic, in a suspenseful and heartfelt take on how the "great green room" might have come to be"--
"When 13-year-old Jace Wilson witnesses a brutal murder, he's plunged into a new life, issued a false identity and hidden in a wilderness skills program for troubled teens. The plan is to get Jace off the grid while police find the two killers. The result is the start of a nightmare. The killers, known as the Blackwell Brothers, are slaughtering anyone who gets in their way in a methodical quest to reach him. Now all that remains between them and the boy are Ethan and Allison Serbin, who run the wilderness survival program; Hannah Faber, who occupies a lonely fire lookout tower; and endless miles of desolate Montana mountains. The clock is ticking, the mountains are burning, and those who wish Jace Wilson dead are no longer far behind"--
Teddi Overman found her life's passion for furniture in a broken-down chair left by the side of the road in rural Kentucky. Learning to turn other people's castoffs into beautifully restored antiques, she eventually opens her own shop in Charleston. Teddi builds a life surrounded by remarkable friends and finds love in the most surprising way, but nothing can alleviate the uncertainty she's felt in the years since her brother's mysterious disappearance.
When Liana Dector, a woman who is possibly a cold-blooded killer wanted by the police, storms into his favorite Boston tavern demanding his help, George Foss, unable to say "no" to his first love, is drawn into a world of murder, betrayal, and secrets from which there is no escape.