Author bio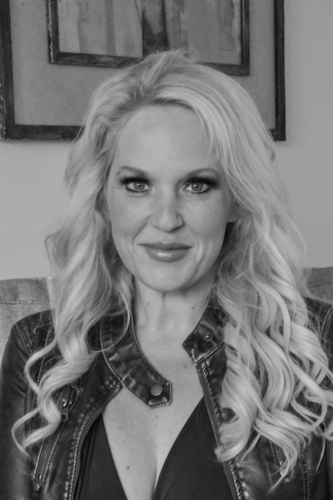 Abbi Glines - book author
Abbi Glines is a #1 New York Times, USA Today, and Wall Street Journal bestselling author of the Rosemary Beach, Sea Breeze, Vincent Boys, Field Party and Existence series. She never cooks unless baking during the Christmas holiday counts. She believes in ghosts and has a habit of asking people if their house is haunted before she goes in it. She drinks afternoon tea because she wants to be British but alas she was born in Alabama. When asked how many books she has written she has to stop and count on her fingers. When she's not locked away writing, she is reading, shopping (major shoe and purse addiction), sneaking off to the movies alone, and listening to the drama in her teenagers lives while making mental notes on the good stuff to use later. Don't judge.

You can connect with Abbi online in several different ways. She uses social media to procrastinate.

Abbi Glines is the author of books: Fallen Too Far (Rosemary Beach, #1; Too Far, #1), Never Too Far (Rosemary Beach, #2; Too Far, #2), Forever Too Far (Rosemary Beach, #3; Too Far, #3), Breathe (Sea Breeze, #1), The Vincent Boys (The Vincent Boys, #1), Twisted Perfection (Rosemary Beach, #5; Perfection, #1), While It Lasts (Sea Breeze, #3), Existence (Existence, #1), Because of Low (Sea Breeze, #2), Just for Now (Sea Breeze, #4)
Author Books
01


She is only nineteen.

She is his new stepfather's daughter.

She is still naïve and innocent due to spending the last three years taking care of her sick mother.

But for twenty-four year old Rush Finlay, she is the only thing that has ever been off limits. His famous father's guilt money, his mother's desperation to win his love, and his charm are the three reasons he has never been told no.

Blaire Wynn left her small farmhouse in Alabama, after her mother passed away, to move in with her father and his new wife in their sprawling beach house along the Florida gulf coast. She isn't prepared for the lifestyle change and she knows she'll never fit into this world. Then there is her sexy stepbrother who her father leaves her with for the summer while he runs off to Paris with his wife. Rush is as spoiled as he is gorgeous. He is also getting under her skin. She knows he is anything but good for her and that he'll never be faithful to anyone. He is jaded and has secrets Blaire knows she may never uncover but even knowing all of that…

Blaire just may have fallen too far.
02


Everything she had known was no longer true.

Blaire couldn't stop loving him but she knew she could never forgive him.
Now, she was back home and learning to live again. Moving on with life… until something happened to send her world spinning once again.
What do you do when the one person you can never trust again is the one that you need to trust so desperately?

You lie, hide, avoid, and pray that your sins never find you out.

62,776 word count
03


Torn between his love for his family and his love for Blaire, Rush has to find a way to save one without losing the other. In the end one has to be more important. Letting go isn't easy.

Blaire believed in her fairytale... but no one can live in a fantasy.

Her love for Rush and desire to have a family keep her believing that they can find a way for this to work. Until she has to make the right decision for her and the baby. Even if it breaks her heart.

Can they find the forever that they both want or has it all just gone... too far?
04


When the family arrives at their summer getaway, Sadie is surprised to learn that the owner of the house is Jax Stone, one of the hottest teen rockers in the world. If Sadie hadn't spent her life raising her mother and taking care of the house she might have been normal enough to be excited about working for a rock star.

Even though Sadie isn't impressed by Jax's fame, he is drawn to her. Everything about Sadie fascinates Jax but he fights his attraction. Relationships never work in his world and as badly as he wants Sadie, he believes she deserves more. By the end of the summer, Jax discovers he can't breathe without Sadie.
05


Beau loves his cousin like a brother, so the last thing he wants to do is make a move on Sawyer's girl. Ashton is off-limits, absolutely. That's why he does his best to keep his distance, even though he's been in love with her forever. When Ashton wants to rekindle their childhood friendship in Sawyer's absence, Beau knows he should say no.

Ashton and Beau don't want to hurt Sawyer. But the more they try to stay away from each other, the more intense their urges become. It's getting way too hard to resist....
06


Woods Kerrington had never been one to be attracted to fragile females. They seemed like too much work. He wasn't in it for the work just the pleasure. A night full of naughty fun had been exactly what was on his mind when he'd laid eyes on the hot little number that didn't know how to pump gas and needed some help.

What he didn't know was she was as fragile as they came.
The carefree girl who spoke her mind and didn't care what the world thought of her was more breakable than he could ever imagine…
07


Unfortunately, his baseball coach isn't buying it. Cage has a free ride to the local junior college for baseball -- or he did, until he'd gotten a DUI. Now, Cage has to decide: does he drop out and give up his dream of getting noticed by a college in the SEC, and possibly making it into the Major Leagues -- or does he give in to his coach's demands and spend his summer baling hay?

Eva Brooks planned out her life step by step when she was eight years old. Not once over the years had she lost sight of her goals. Josh Beasley, her next door neighbor, had been the center of those goals. He'd been her first boyfriend at seven, her first kiss at ten, her first date at fifteen, and her first tragedy at eighteen. The moment she'd received the phone call from Josh's mother saying he'd been killed along with four other soldiers just north of Baghdad, Eva's carefully planned life imploded in the worst way possible.

Cage isn't real happy with his closet-sized bedroom in the back of a foul smelling barn, or his daily interactions with cows, but he knows that if he doesn't make his coach happy then he can kiss his scholarship goodbye. Only a sick and twisted man would decide his punishment was to be working on a farm all summer. No hot babes in bikinis waiting to meet a Southern boy to make her vacation complete. Just him and the damned cows.

Oh -- and an uptight, snarky brunette with the biggest blue eyes he's every seen. But she doesn't count, because as hard as he's tried to charm her out of her panties - he's pretty sure she'd rather see him hung from the rafters than let him get a taste of her pretty little lips.
08


Pagan Moore doesn't cheat Death, but instead, falls in love with him.

Seventeen year old Pagan Moore has seen souls her entire life. Once she realized the strangers she often saw walking through walls were not visible to anyone else, she started ignoring them. If she didn't let them know she could see them, then they left her alone. Until she stepped out of her car the first day of school and saw an incredibly sexy guy lounging on a picnic table, watching her with an amused smirk on his face. Problem is, she knows he's dead.

Not only does he not go away when she ignores him, but he does something none of the others have ever done. He speaks. Pagan is fascinated by the soul. What she doesn't realize is that her appointed time to die is drawing near and the wickedly beautiful soul she is falling in love with is not a soul at all.

He is Death and he's about to break all the rules.
09


Marcus Hardy had hoped to enjoy a year away at college while he put the summer he'd rather forget behind him. But instead, he's jerked right back to the coastal town of Sea Breeze, Alabama due to a family crisis. His dear ol' dad found himself a girlfriend only a few years older than Marcus. So now his sister needs help dealing with their mother who is mentally falling apart. The only bright spot to returning is the fascinating red head who sleeps over several times a week. The problem is she's sleeping in bed with his new roommate, Cage York.

Willow "Low" Foster needs a place to live. Running to Cage's apartment every time her sister kicks her out isn't exactly a long term solution. Juggling her courses at the local community college and a part time job doesn't produce excess income. But Cage has a new roommate and suddenly sleeping over at her best friend's apartment isn't such a bad thing. Not when she gets to see those sexy green eyes of Marcus Hardy's twinkle when he smiles at her like he wants her there.
Even though Cage seems a little territorial where Low is concerned, Marcus finds time to spend with Low without upsetting his roommate. Cage may use his small college baseball star persona to sleep with every hot female in his path but he's still under the disillusion that when he's through sowing his wild oats, he's going to marry Low. Marcus intends to change that assumption for both Cage and Low. Until his carefully laid plans come crashing down with a revelation he never expected. He'll have to choose between Low or his family. Because once the truth comes out.... there's no other choice.
10


The run down rat-infested trailer he had shared with his alcoholic mother and three younger siblings was now only a place he visited to pay the bills and stock the pantry with food.

He no longer worried about his family starving or living without electricity. The money he made entertaining rich older women more than covered his family's needs and his own. He had it all figured out. Except…

There was this girl.

She was as innocent as he was tainted.

Amanda Hardy wished her knees didn't get weak when Preston walked into a room. She hated the fact her heart raced when he flashed his smile in her direction. He had a different girl in his bed every night. He was the kind of boy a smart girl ran from. So, why was she coming up with ways to get close to him? Even when it was obvious he wanted to keep her at a distance.

Maybe her heart knew something the world didn't. Maybe Preston Drake was more than just a pretty face.