Author bio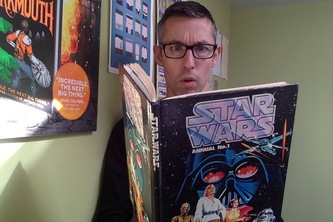 Shane Hegarty - book author
Author of Darkmouth series (HarperCollins), being adapted for film by Alcon Animation. Also writer of Boot (Hachette), published in May 2019. reader of sci-fi, YA, middle-grade, picture books, fantasy, history, science, comics... everything, really. Likes to dance while writing.
Shane Hegarty is the author of books: The Legends Begin (Darkmouth #1), Worlds Explode (Darkmouth #2), Chaos Descends (Darkmouth #3), Boot: Small Robot Big Adventure, Hero Rising (Darkmouth #4), The Irish Times Book of the 1916 Rising, Boot: The Rusty Rescue (Boot#2), The Irish (and Other Foreigners), Darkmouth Box Set (Darkmouth #1-3), Broonie und der Tag vor Darkmouth (Darkmouth #0.5)
Author Books
01


There are towns where the border between our world and the world of monsters - properly called Legends - is thin. One of those towns is Darkmouth.

There, our hero Finn is the son of the last remaining Legend Hunter - which means that one day soon he will be the last remaining Legend Hunter.

Except... he's a bit rubbish at it. And in a spectacularly unfortunate coincidence, the terrifying leader of the monsters is in the midst of planning an all out attack on earth... in Darkmouth.
02
Darkmouth #2: Worlds Explode, the second book of the tween fantasy series that Kirkus Reviews called "Ghostbusters meets Percy Jackson as written by Terry Pratchett."

Legend Hunter–in-training Finn may be clumsy and uncoordinated, but nothing will stop him from saving his dad, who is trapped in a land full of the monsters that have plagued Darkmouth for centuries. Now Finn will have to journey between worlds to rescue him from the Infested Side.

The action-packed sequel to Darkmouth #1: The Legends Begin is a hilarious adventure filled with beasts of the winged, fanged, and hungry variety—perfect for fans of How to Train Your Dragon and The Hero's Guide to Saving Your Kingdom.
04


Beautifully illustrated throughout, Boot is a special book you will want to treasure and share.

When toy robot, Boot, wakes up at a scrapyard, it has no idea how it got there and why it isn't with its owner, Beth. It only has two and a half glitchy memories, but it knows it was loved, which means something important to humans.

Boot soon realises its emotions make it different to other robots, who just function and don't think. Boot is scared but tries to be brave, which is hard when its screen keeps showing a wobbly, worried face. Luckily Boot meets Noke and Red - other 'advanced' robots who have learned to survive in secret.

With its new friends by its side, Boot is determined to find Beth and the gang set off on a dangerous adventure. Everything Boot thought it knew about the world is changing and things aren't as simple as it remembers . . .

Boot is a story that will take you by surprise and make you think about the world around you.
05
The fourth book in the monstrously funny and action-packed Darkmouth series. It's going to be legendary.
06
07
08


The Irish (& Other Foreigners) also tells the curious and bloody story of the Plantations, a mass movement of people which convulsed the island, as well as looking at how other newcomers left their mark on the island and its people. And finally, there is a chapter on the recent wave of immigration and how quickly a country of mass emigration became host to people from across the globe.
09

Darkmouth
Worlds Explode (Darkmouth
Book 2)
Worlds Explode (Darkmouth, Book 2)
The second book in the monstrously funny and action-packed new series: Darkmouth. It's going to be legendary. The adventures of the most unfortunate Legend Hunter ever to don fighting armour and pick up a Dessicator continue...On a list of things Finn never thought he'd wish for, a gateway bursting open in Darkmouth was right up there. But that's about his only hope for finding his missing father. He's searched for a map, he's followed Steve into dead ends, but found nothing. And he's still got
Chaos Descends (Darkmouth, Book 3)
The third book in the monstrously funny and action-packed Darkmouth series. It's going to be legendary. The adventures of the most unfortunate Legend Hunter ever to don fighting armour and pick up a desiccator continue... Finn's been through so much, he'll now be allowed do what he wants with the rest of his life, right? Wrong. Whether he likes it or not, he's going to be made a proper Legend Hunter. But then suddenly people start disappearing, Legends are appearing where they shouldn't,
Darkmouth
A monstrously funny debut from the new star of middle-grade adventure. THEY'RE COMING! Legends (also known as terrifying, human-eating monsters) have invaded the town of Darkmouth and aim to conquer the world. But don't panic! The last remaining Legend Hunter - Finn - will protect us. Finn: twelve-years-old, loves animals, not a natural fighter, but tries really, really hard, and we all know good intentions are the best weapons against a hungry Minotaur, right? On second thoughts, pa
10


Als der Hogboon Broonie durch einen fiesen Streich aus dem Schlaf gerissen wird, ahnt er noch nicht, dass dieser Tag sein Leben für immer verändern wird. Doch schon kurz darauf landet er in einem tiefen Erdloch. Wem das gehört? Natürlich einem äußerst übel gelaunten und extrem hungrigen Minotaurus. Broonie rennt um sein Leben. Aber es kommt noch schlimmer, denn der Minotaurus ist nicht der Einzige, der es an diesem Tag auf Broonie abgesehen hat …

Mit zahlreichen Hintergrundinformationen zu Darkmouth, den Helden der Geschichte und einem kleinen "Legendenführer" für angehende Monsterjäger. Für alle, die wissen wollen wie es mit Broonie und in Darkmouth weitergeht, gibt es in diesem E-Book außerdem Leseproben aus "Darkmouth - Der Legendenjäger" (Band 1) und "Darkmouth - Die andere Seite", Band 2 des spannenden Abenteuers von Legendenjäger Finn und seinen Freunden, das im Oktober 2015 erscheint.

Komm mit nach Darkmouth - wenn du dich traust!