Author bio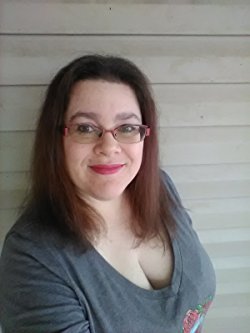 Jessica Coulter Smith - book author
Also writes under the pseudonym of Jessie Colter.

Award-winning author Jessica Coulter Smith has been in love with the written word since she was a child writing her first stories in crayon. Today she's a multi-published author of over seventy-five novellas and novels. Romance is an integral part of her world and she firmly believes that love will find you at the right time, even if Mr. Right is literally out of this world.

Harley Wylde is the "wilder" side of award-winning author Jessica Coulter Smith. You can find Harley online at harleywylde.com. Jessica also writes gay romance under the pen name Dulce Dennison, and Mainstream New Adult/Young Adult romance as Charity West.

You can follow Jessica at:

Her website: http://www.jessicacoultersmith.com
Her blog: https://jessicacoultersmith.wordpress...
Facebook: https://www.facebook.com/jessicacoult...
Twitter: https://twitter.com/kitcatjms

Sign up for her newsletter to find out about new releases, sales, and the occasional free book! http://eepurl.com/bwPvbT

Jessica Coulter Smith is the author of books: Moonlight Protector (Ashton Grove Werewolves, #2), Moonlight Hero (Ashton Grove Werewolves, #3), Moonlight Guardian (Ashton Grove Werewolves, #4), Moonlight Champion (Ashton Grove Werewolves, #5), Brielle and the Alien Geek (Intergalactic Brides, #1), Moonlight Savior (Ashton Grove Werewolves, #6), Avelyn and the Alien Daddy (Intergalactic Brides, #3), Moonlight Haunting (Ashton Grove Werewolves #1), Victoria and the Alien Doctor (Intergalactic Brides, #2), Slave to Passion (A Tale of Shar, #1)
Author Books
01


Marin Thomas is fleeing for her life. After being abducted and held hostage, she is determined to escape the maniac once and for all. Stealing his car, she travels as far and as fast as she can - until a car accident lands her in some woods near Ashton Grove, Georgia. Fighting for her very life, she finds herself begging a wolf for help.

Is Marin the mate that Cole has been waiting for? Or will she end up with one of his brothers? One sniff tells him that she belongs to his pack. The only question that remains is who will win her heart
02


Running from a ravenous vampire, Kiera is happy to see the hot mechanic.

A confrontation between the couple and the vampire forces Gabriel to announce Kiera as his mate. When the vampire throws down the gauntlet, demanding that Gabriel and Kiera marry in order to prove that she's really the alpha's mate, Gabriel is only too happy to agree.

Kiera on the other hand has her doubts. Coming from a small town in Tennessee where werewolves do not associate with other shifters, the little werefox can't believe that Gabriel could really want her in his life.

Will these two have a happily ever after? Or will Kiera's past life and an angry vampire keep them apart?
03


Chloe Stevens is on her last leg. She found a guy she thought was great, only to end up pregnant and have the guy vanish into thin air. Then she lost her job and consequently, her car. Now she's facing eviction. Five months pregnant, no job, no car, and now no home have forced Chloe to do the one thing she swore she wouldn't...contact the father of her baby. She may have just been a fling to Michael, but their few days together had meant more to her.

When a pregnant Chloe shows up looking for Michael, he's stunned to find out that he's going to be a father. It appears that fate is determined to put the woman in his path. But is Michael willing to fight for Chloe when another werewolf decides to claim her?
04
05


Not one to go down without a fight, Brielle will do anything to ensure her survival -- even sign up for a bride exchange on another world.

Syl has lived his life in his lab, always preoccupied with his experiments. But the moment he sees Brielle, he realizes that perhaps his life has been missing something after all.

Wanting and having are two different things. What would an exotic looking female like Brielle want with an alien geek like him?
06


But Ramsey has someone else in mind as his mate. When he meets his best friend's sister, he can't take his eyes off her. While having Harper by his side is wonderful, they have a bumpy road ahead of them. Especially when a werewolf from her past moves to Ashton Grove.
07


Thrace adopted sweet Lily to spare her from the Intergalactic Adoption Agency. Now that he's become a doting daddy overnight, he's feeling a bit overwhelmed. When Avelyn is dropped into his lap, he's more than grateful. A nanny is just what he needs!

There's only one problem. When Thrace looks at Avelyn, he doesn't see a caretaker for his daughter. He sees a vibrant, desirable woman who sets his blood on fire.

What's an alien daddy to do when what he wants most is to have the nanny in his bed?
09


Time is running out. Victoria Mathers has tried everything. Her daughter has a rare cancer that hasn't responded to any of the treatments human medicine has to offer. If she can't convince the sexy alien doctor to help her, she knows she'll watch her child die. Victoria will do anything to save her daughter, even if it means bonding with an alien for the rest of her life.

Per Earth's rules, Xonos isn't allowed to treat humans, unless they're one of the new human-alien pairs. However, looking at the small human child who is obviously suffering tears at his heart. It's been his life's work to save people, and he isn't sure he can stand by and watch an innocent child die when he might be able to help.

What starts as a simple arrangement quickly turns into something more as Xonos and Victoria grow closer. It isn't long before she realizes that she yearns for his touch and she wants so much more from him than he may be willing to give. Love was never mentioned when they struck their bargain, but now she'll settle for nothing less.