Author bio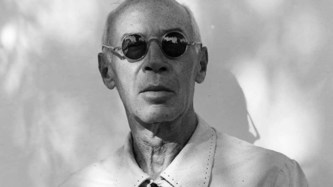 Henry Miller - book author
Henry Miller sought to reestablish the freedom to live without the conventional restraints of civilization. His books are potpourris of sexual description, quasi-philosophical speculation, reflection on literature and society, surrealistic imaginings, and autobiographical incident.

After living in Paris in the 1930s, he returned to the United States and settled in Big Sur, California. Miller's first two works, Tropic of Cancer (Paris, 1934) and Tropic of Capricorn (Paris, 1939), were denied publication in the U.S. until the early 1960s because of alleged obscenity. The Colossus of Maroussi (1941), a travel book of modern Greece, is considered by some critics his best work. His other writings include the Rosy Crucifixion Trilogy — Sexus (1949), Plexus (1953), and Nexus (1960). In 1976 Norman Mailer edited a selection of Miller's writings, Genius and Lust.
http://en.wikipedia.org/wiki/Henry_Mi...
Henry Miller is the author of books: Tropic of Cancer, Tropic of Capricorn, Sexus (The Rosy Crucifixion, #1), Black Spring, Plexus (The Rosy Crucifixion, #2), Nexus (The Rosy Crucifixion, #3), Quiet Days in Clichy, The Colossus of Maroussi, The Air-Conditioned Nightmare, Big Sur and the Oranges of Hieronymus Bosch
Author Books
01
Tropic of Cancer, Henry Miller's masterpiece, was banned as obscene in this country for twenty-seven years after its first publication in Paris in 1934. Only a historic court ruling that changed American censorship standards, ushering in a new era of freedom and frankness in modern literature, permitted the publication of this first volume of Miller's famed mixture of memoir and fiction, which chronicles with unapologetic gusto the bawdy adventures of a young expatriate writer, his friends, and the characters they meet in Paris in the 1930s. Tropic of Cancer is now considered, as Norman Mailer said, "one of the ten or twenty great novels of our century."
02
Tropic of Cancer chronicles his life in 1920s New York City. Famous for its frank portrayal of life in Brooklyn's ethnic neighborhoods, and Miller's outrageous sexual exploits, Tropic of Capricorn is now considered a cornerstone of modern literature.

04
05
07
08
09
The Air-Conditioned Nightmare is the result of that odyssey.
10


Big Sur is the portrait of a place one of the most colorful in the U.S. and of the extraordinary people Miller knew there: writers (and writers who didn't write), mystics seeking truth in meditation (and the not-so-saintly looking for sex-cults or celebrity), sophisticated children and adult innocents; geniuses, cranks and the unclassifiable.

Henry Miller writes with a buoyancy and brimming energy that are infectious. He has a fine touch for comedy. But this is also a serious book the testament of a free spirit who has broken through the restraints and cliches of modern life to find within himself his own kind of paradise.